When we started placing NDs in corporates, we were flooded with applications and enquiries from those who didn't fit into the corporate setup. Their accommodation needs were high, their communication was markedly different or they had minimal formal education, and in many cases all three. How do we ensure sustainable employment for this group and do it at scale?  
We looked at what the group had in common. They were extremely resilient, many were socially isolated and spent huge amount time on their computers, because their education was limited their English language skills were too, the nature of their education meant a lot of exposure to arts and crafts, including digital art i.e., graphic designing - taking their strengths into account we found an area in the AI space called Data Annotation for Computer Vision (Image & Video Annotation).  
We started with Image Annotation – we had no clue what we were getting into that we jumped right into the most difficult part of 2D Annotation – Semantic Segmentation. Now we needed a platform to do this on – we discovered Dataloop, an Israeli company, and wrote to their founder asking for access to their platform. There was only one problem. We had no money to pay them. They let us use it for free for a whole quarter. If billed, this would have been in the 1000s of dollars.  
When our time there ran out, Taskmonk, an Indian data annotation platform, stepped up. Those who had worked on both training and production environments, will realize how different the workflows are. Taskmonk went out of their way to customize to meet our training requirements. They had no reason to. But they did. We are very very thankful they did. Microsoft soon accepted us into their Startups program and gave us free Azure credits. This meant we could now afford to host an open-source DA platform. OpenCV and CVAT came to the rescue.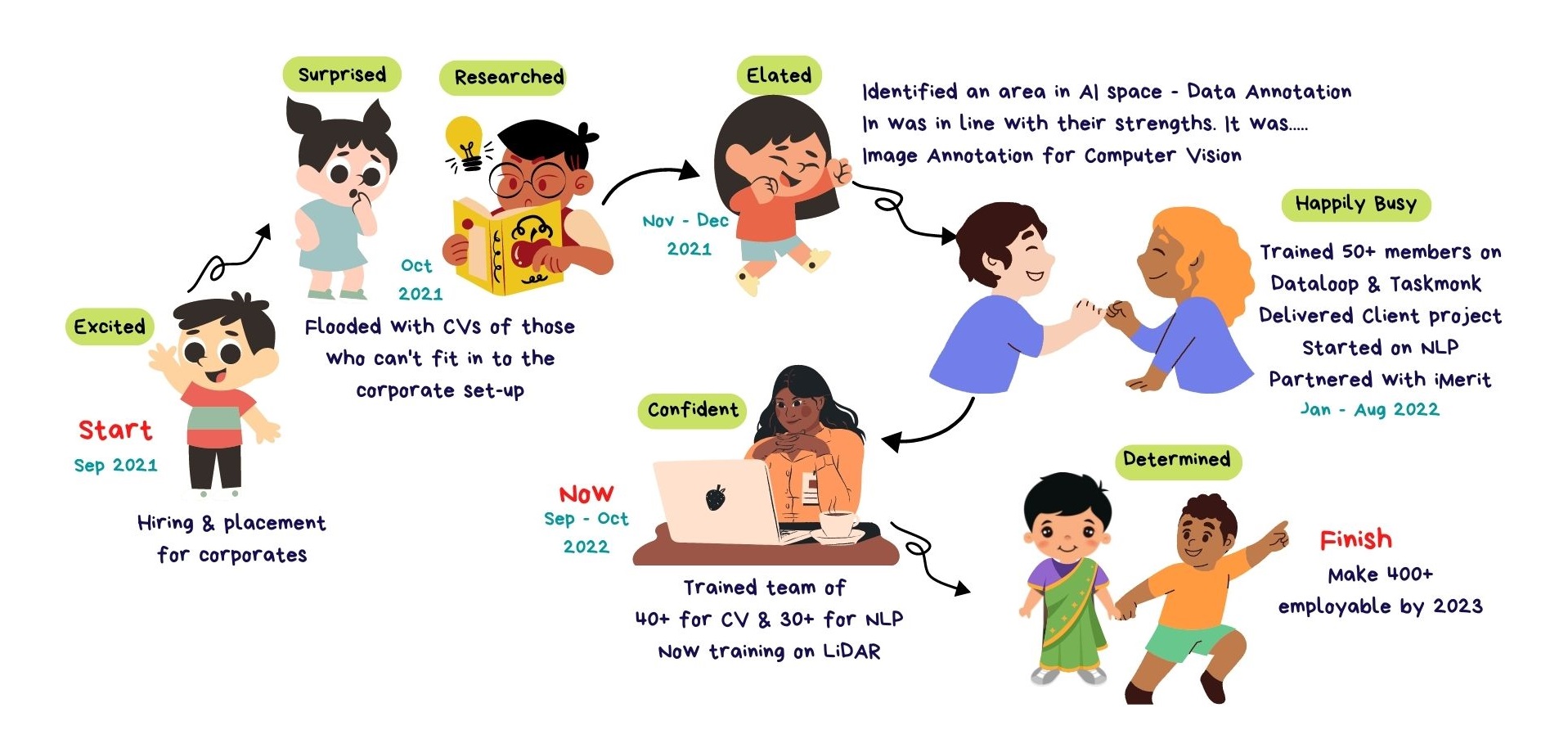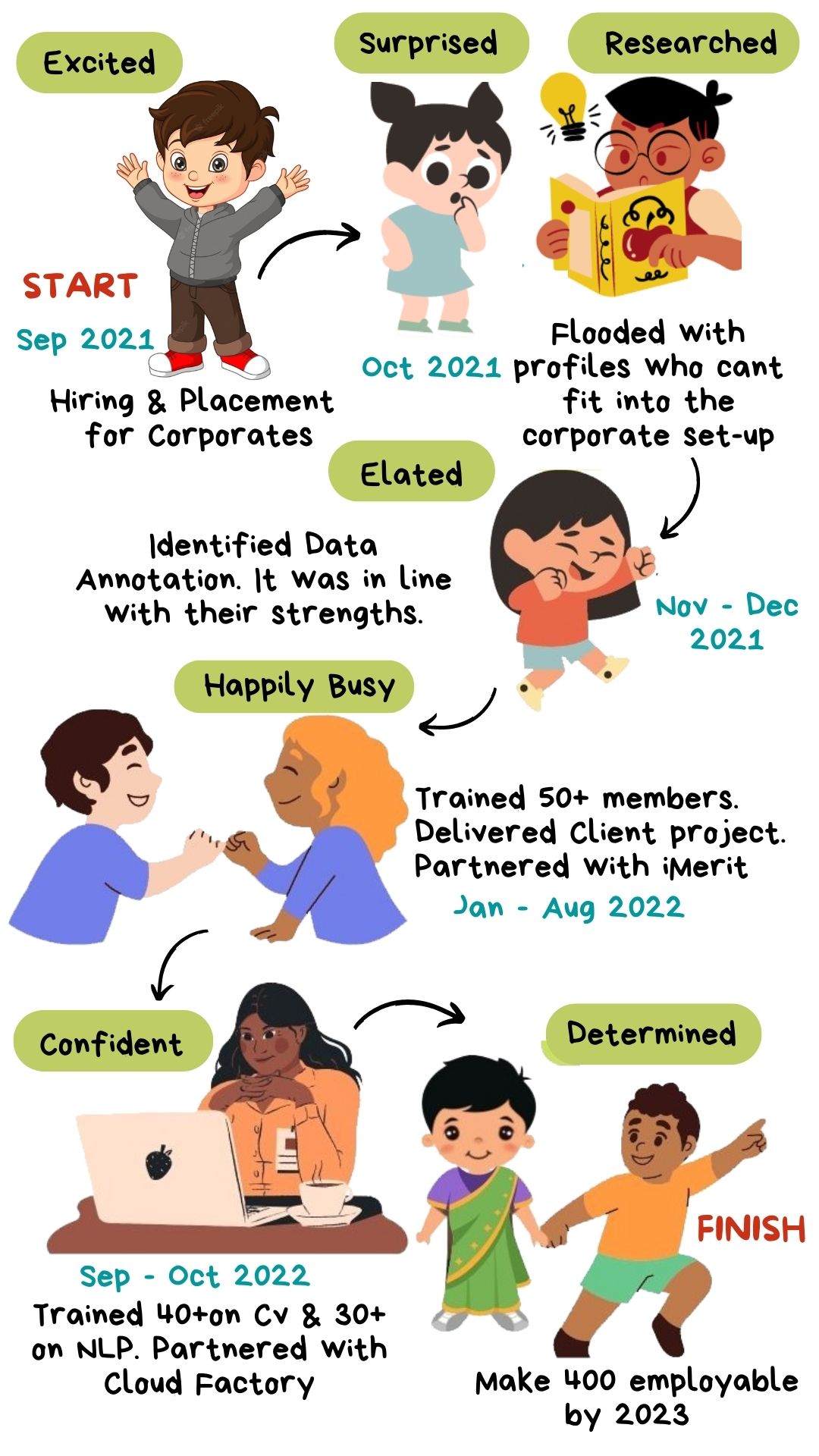 We started attending AI conferences. We connected to iMerit one of the leading data annotation service providers in India who were as excited as we were to  explore this intersection of neurodivergence & AI. Together we figured out a way to work together.  Soon, our group was on the iMerit L&D platform being tested for their annotation` skills. All did well scoring over 90% in record time. Maybe it had something to do with them already being trained and certified by Orchvate, maybe it was the sheer resilience and focus of the group, maybe it was really empathetic trainer from iMerit, maybe it was all three.  
During this time we came across many whose cognitive differences did not fit into just one label, a group had both cognitive and physical differences, a subset's gender identity did not fit into the tired male/female binary. Many were traumatized by their experiences of being made to and later trying to fit in. The brain & the body can't be separated & compartmentalized, can it? How does one cater to this intersectionality of differences? 
There was a group whose manifestation of their cognitive and physical differences were not consistent. There were times they could walk, there were times they couldn't.   There were times they could see, there were times they couldn't. There were times they could think & speak coherently…and times, they couldn't. We are so used to thinking of disability in a two dimensional manner, that we forget we are talking of real people. We met the large population living with Multiple Sclerosis whose visible manifestations of their disability changes with time.  
There were other things about the people who joined us, we noticed. A subset had high visual & spatial acuity that makes them excellent for LIDAR tasks (3D annotation).  Another was very good with language and a subset was multilingual - French, Spanish, Mandarin, Japanese, the list goes on, not to mention the plethora of Indian languages  they covered as they came from across the length and breadth of India. They formed the NLP team. 
Do you see what we are getting at? We had a team whose skills and dedication could rival that of any competitor and we were just starting! We built processes . We built operations. We did pilots. We built a company. We featured at the NASSCOM AI Summit.  
We now need more projects..paid projects…decently paid projects. Join our journey?